Aspire, Achieve, Enjoy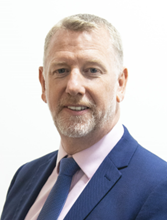 I am delighted to introduce myself as the new Headteacher of Twickenham School from September 2023. As a local resident for the past 20 years and an educator for 27 years, I have closely followed the school's journey. I am both humbled and excited to have been entrusted with the leadership of a school that holds such a significant place in our community.
Firstly, I would like to express my respect for Ms. Assal Ruse, who has been an inspirational figure at the helm of this institution for the past seven years. Her commitment and dedication along with her exceptional staff team have transformed Twickenham School into the beacon of excellence that we see today.
The vision of Twickenham School, where every student becomes a confident and successful lifelong learner, resonates deeply with my own beliefs. The underpinning values of perseverance, responsibility, integrity, determination, and empathy align with my own educational philosophy, and I am committed to upholding these ideals.
Throughout my career, including my tenure as the Senior Deputy Headteacher and subsequently as the Associate Headteacher at Hammersmith Academy, I have passionately upheld the belief that all students, regardless of their starting points, can attain the highest success. My goal as Headteacher is to work tirelessly to realise this vision for our school community.
Our staff's dedication, excellent teaching, the students' positive attitude, and our parents' commitment are the cornerstones of Twickenham School that I was struck by during my first visit. As your Headteacher elect, I am eager to build upon these strengths and foster a culture of continuous self-improvement, enriching our learning environment.
Over the coming months, I hope to have opportunities to meet many of you personally. These occasions will allow us to share thoughts, ideas, and aspirations for our school community, and I am truly looking forward to that.
The path forward will be guided by our collective commitment to nurturing confident, successful learners, and encouraging all our young people to Aspire, Achieve, and Enjoy their educational journey.
Thank you for your continued support of Twickenham School. I look forward to meeting you all.
Yours sincerely,
Jonathon Lisseman