Safeguarding and pastoral support is embedded into our values at Twickenham School. We are proud of our thorough and effective practice that has been recognised by OFSTED, Bourne Education Trust leaders and external agencies. We promote a climate in which students and adults feel confident about sharing any concerns they may have about their own safety and well-being or that of others. We also pride ourselves on promoting Equality, Diversity and Inclusion ('EDI') within our school community.
All students benefit from pastoral support systems from Year 7 right through to their steps of further education. The below demonstrates the daily support put in place that is available to every student.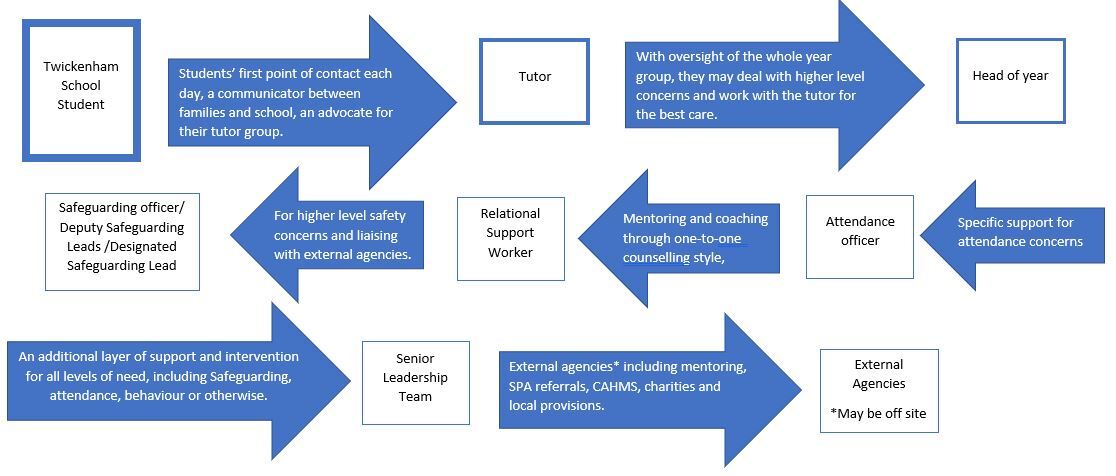 ---
Being Safe in School and Beyond
Throughout tutor time, assemblies and PDC (Personal Development and Citizenship) lessons, students are taught how to stay safe in all aspects of life. Our curriculum covers topics including:
Online safety
Health and wellbeing
Healthy relationships
Living in the wider world
Emotional health
Economical health.
Throughout your child's time at Twickenham School, all members of staff uphold high expectations of student conduct and integrity. All reports of misconduct or concern are investigated and recorded effectively. Please see our School Policies folder for further information.
---
Our Safeguarding Policy
Our Safeguarding Policy can be found under About/Key Information/School Policies.
/24/key-information-and-policies
---
Advice and information
Spotlight on Safeguarding
Each month we will be issuing a newsletter with a focus on Safeguarding.
Edition 1 - Tiktok and Child Criminal Exploitation
Free Online Mental Health Advice for Families
Supporting the wellbeing of children has never been so important. To assist parents in doing this, SSS have produced two resources to help families.
Child Mental Health & Wellbeing - 10 top Tips for Parents
Parent Mental Health & Wellbeing - 10 Top Tips for Parents
Learning about online safety at home (ThinkUKnow)
ThinkUKnow have created a page to support parents and young people online. The site includes home activity packs with simple 15 minute activities support children's understanding of online safety at a time.
https://www.thinkuknow.co.uk/parents/
NSPCC Net Aware
The NSPCC also have some useful advice for parents on online safety including gaming and social media
https://www.nspcc.org.uk/keeping-children-safe/online-safety/#guides
Parent Info
Parent Info has a bank of resources and information about online safety and the digital world
Kingston and Richmond Safeguarding Children Partnership
KRSCP parent portal is a useful resource on any safeguarding matters and gives advice to parents on how best to support their children
https://kingstonandrichmondsafeguardingchildrenpartnership.org.uk/parents-and-carers.php
Additional Information on Keeping your Children online
Parental-Safeguards-for-devices.pdf
Vaping advice for parents
Find out what support is available to help you and your family get through the cost-of-living crisis.